Our history
Original Bathrooms has a unique heritage, with family links to the great Victorian inventors who gave us the first wash-down closets. Below you will find a remarkable pictorial history of the family's involvement in the invention and development of the flushing toilet system as we know it today.
Edward Humpherson, founder
Edward Humpherson first became a silversmith before turning to plumbing in the early 1870s. He was a fine, upright gentleman with a bushy moustache and a gold watch and chain draped proudly across his chest. 
At the time, Edward lived opposite the renowned Thomas Crapper's showrooms in Marlborough Road, Chelsea (now Draycott Avenue) and two of his four sons, Frederick and Alfred, each served four year apprenticeships with Crapper. 
In its archives the family still has the original apprenticeship papers signed on 8th April 1871 by Frederick, Edward and Crapper and witnessed by Robert Mar Wharam (whose family bought Crappers in 1910). Frederick's wages were ten shillings a week for six days from 6.30am to 5.30pm. Both sons then joined Edward in his business Humpherson & Co at the Beaufort Works in Kings Road, Chelsea and their showrooms were on the corner of Beaufort Street and Fulham Road. A third son founded the firm of Hexter Humpherson in Devon, which manufactured glazed pipes and other important sanitaryware items
The Improved Syphon Cistern
The enthusiasm and original minds of Frederick and Alfred Humpherson pushed the business on to achieve eminence in plumbing matters. Their large range of products was sent all over the UK and used by other manufacturers. One early success was the efficient 'Improved Syphon Cistern' patented by Frederick in 1885 which received the only prize medal – a handsome bronze medallion bearing the head of Queen Victoria – for flushing cisterns at the International Inventions Exhibition of that year. Many other inventions and patents followed.
Frederick Humpherson
Born in 1854 and apprenticed at the age of seventeen, Frederick Humpherson was intelligent and largely self-educated and the family archive contains a leather-bound book containing twenty three of his original City & Guilds certificates. These were all gained by Frederick at Elementary, Intermediate and First Class levels between the age of 17 and 21 and included such subjects as Acoustics, Light & Heat, Metallurgy, Applied Mechanics and Machine Construction & Drawing. A remarkable achievement considering that he was then working eleven hour days for Thomas Crapper!In 1900, Frederick Humpherson purchased three small cottages in Holmes Place along Fulham Road which he demolished and built showrooms, a warehouse, extensive workshops and a mansion flat above. The company moved there in 1901 and the family archive still has the working drawings. The property was sold in 1973 and became the first Holmes Place Health Club.
The Original Pedestal Wash-Down Closet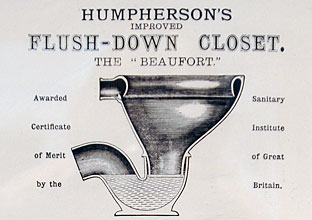 Humphersons' proudest claim is that they produced 'The Original Pedestal Wash-Down Closet', and the direct ancestor of the type in use worldwide today and is a tribute to the skill and inventiveness of the family. This model, the 'Beaufort Pedestal Closet' was awarded the Certificate of Merit of the Sanitary Institute of Great Britain in 1885. Despite the success of this model, Humphersons were still producing the old valve closet which was still much in demand. Indeed, two of these 'Perfect Elastic-Valve Closets' were still in use in 1970. Thomas Crapper's rival and better known claim that he produced the first washdown closet has been finally discounted by experts in the field and Frederick Humpherson is agreed to have been the true inventor.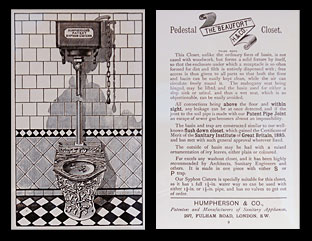 His great achievements in the sanitary field are now universally acknowledged and his many inventions and designs have been given due credit. His patents include: an improved lead pipe joint and an improved waste water preventer in 1885, a siphonic flushing cistern in 1888, a pedestal water closet in 1891 and in 1892 an automatic or intermittent siphonic flushing apparatus. By comparison, Thomas Crapper has no patents listed which pertain to the design of a WC suite. Indeed, his most famous 'invention' was the syphon which was actually designed and patented by Giblin of Fulham who then sold the patent to Crapper.
In addition to their range of water closets, Humphersons also supplied a comprehensive choice of lavatory fittings and stop cocks, one of which was awarded the Silver Medal by the Society of Architects in 1886, and the Star Certificate in 1887. Cast iron and copper baths were also sold, as well as cabinet stands and combined lavatories.