Basins
Of all the items you will choose for your new bathroom, the basin provides the greatest choice. Not only are there different types of basin, such as pedestal or wall hung, but they are available in different materials as well. In general, pedestal basins tend to be traditional in style, while wall hung or counter top designs are more contemporary.
Traditional, wall hung, counter top?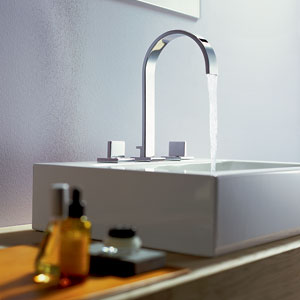 Basins can be mounted on a pedestal or half pedestal. A half pedestal has the advantage of allowing the basin to be wall mounted, enabling it to be fitted at any height, whilst hiding the waste pipe, unsightly trap, and plumbing connections. Alternatively, a wall fixed basin can have a chrome trap instead of a semi pedestal. If your wall is plasterboard or lathe and plaster, basins are wall mounted using a concealed frame as support. Some wall hung basins have brackets to support them.
Other types of basin are inset or vanity basins, which fit into a work surface; semi inset, also known as semi recessed basin, which are half in and half out of a shelf, and table top basins or vessel sinks, which sit on a shelf or counter top.
Most basins are ceramic, meaning china, sometimes called porcelain, however basins can be glass, stainless steel, or natural stone, such as marble or granite. Basins are available with holes drilled for taps and mixer taps or, for a sleek contemporary finish, the basin is not drilled and the taps are wall mounted.